Wish Upon A Hero, Nathan Norman Charity Truck Wrap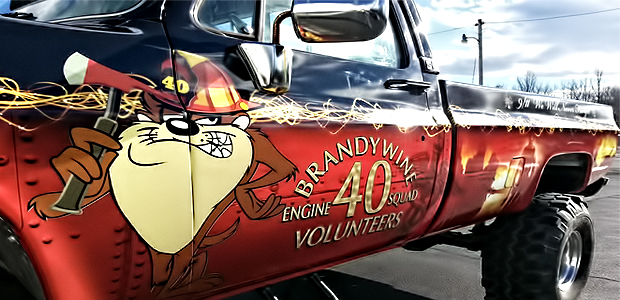 The Story
Nathan Norman is a 6 year old who was diagnosed with cancer at his young age and for Christmas his wish was to receive cards and wishes from the police, EMS, and firefighter departments. His wish was granted and quoted, "Their house is filled with boxes of gifts and cards." – via WishUponAHero Not only did he receive many condolences from the public, firefighters, and police officers, he also received a visit from over 250 police officers driving 12 hours away to also show their support.
Brandywine Volunteer Firefighters
This story not only touched the hearts of the police force, it also caught the attention of the local Brandywine volunteer fire department. Firefighter, Richard Francisco made the initiation to build a monster truck to support this great cause. Richard's idea, "We are building a fire dept monster truck and want to put it out for display. As well as to thank the people who helped with the wrap. It will sport the Brandywine fire dept theme as well as wish upon a Hero and st Jude's center when complete." Along with the completion of this truck, he has also made great steps to get coverage and attention to the cause, truck, and participants involved in this project.
Our Involvement
We met Richard at a local event and were later contacted with this story and project. Also taken by this story, we anxiously became involved in any way possible. Richard voiced his idea of the design of the truck and with the help of N8VCOMP/Arba Graphics/Southern Maryland Wraps and professional designer Russell Bartnick the truck shortly became a reality. The truck uses the tasmanian devil logo and other designs to commemorate the Brandywine volunteer firefighters, Saint Jude's center, and the Wish Upon A Hero foundation for their support in this cause.
Since the completion of the truck it has been mentioned in numerous magazines and media including Maryland Independent. We are honored to be able to be involved in this project and our prayers go out to the Norman family. We thank Richard Francisco and the Brandywine volunteer fire department for the opportunity to be involved.