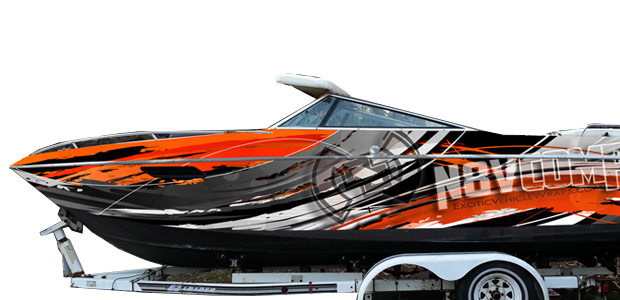 Custom Boat Graphics
Vinyl wraps are not just made for cars, with the advancements in vinyl technology wrapping boats have become an effective and durable solution to conquering the seas. Now that summer has arrived it is the time to get the eye catching look for your marine craft that you have long desired. There are no limitations to what marine vehicles can be wrapped. Along with boats; jet skis, sea-doo's, and even yachts can be wrapped. With help from the Custom-Car-Wraps team, wrapping your vehicle to meet your every need has just got easier!
Design Your Own Boat Wrap

It all starts with creating a quick mock-up layout of the design that you would like for your vehicle via the Custom-Car-Wraps website designer. The program is very straight forward and allows you to upload images as well as apply color schemes to create a basic layout of how you would like your design. Once the design is completed we will receive a copy of the design and it will be passed along to our professional design team to be recreated and scaled appropriately to fit your vehicle. With this state of the art technology it allows us to cut the design time in half to get your boat precisely designed to meet your style with the quickest turnaround time. Click the button below to get started designing your own boat graphics now!

Custom Created Boat Graphics


Looking for something simpler and more cost efficient? Not only can we create digitally printed boat wraps, we can also create single/multi-colored boat graphics. With the use of knifeless tape and high quality car wrap vinyls we can create a unique design that will be eye catching as well as durable. Whilst using knifeless tape this allows us to create perfectly accurate shapes/designs without ever having to take a knife to your vehicle! Pinstriping is also available in countless colors of gloss/metallics to accent your boat to meet your every need.
How Durable Is A Boat Wrap?
Contrary to possible beliefs, a boat wrap is extremely durable and will last years on the water. The vinyl is installed just above the water line of canada pharmacy online or floating in the water. For added protection with every installation we use edge sealer tape along the vinyl to securely seal the vinyl allowing no water to be able to penetrate the vinyl or adhesive. These proper installation methods allow us to create a visually stunning product to be enjoyed by everyone for years to come.
Get started today and design your own boat graphics or fill out our QUOTE REQUEST FORM to receive a FREE estimate for your own of a kind boat wrap