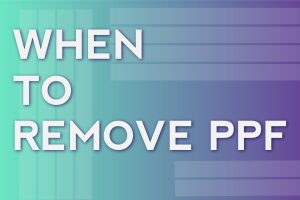 Paint Protection Film will protect and preserve your vehicle unlike any other product on the market. While Paint Protection Film will keep your car protected for a long time, there may come a time when the film may need to be replaced. Here we will discuss certain things to look for to determine if it is time to remove and replace your Paint Protection Film.
The first thing to look for when determining what action to take on your Paint Protection Film is the condition of the film. Some of the main flaws one should look for are:
Yellowing
Yellowing is the most common Paint Protection Film flaw. Over time and extended exposure to direct sunlight and various weather elements, the paint protection film may, over time, start to yellow. This is especially noticeable on white and brighter colored cars. The reason this problem arises is because of a chemical in the adhesive of the paint protection film. Over time in extended sunlight or other harsh weather caused the discoloration which makes it unpleasant to look at.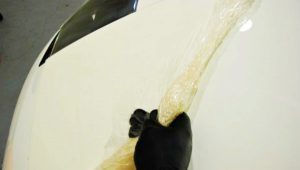 Cracking
Depending on the area where the film is installed, on the vehicle such as horizontal panels, the film may be more susceptible to damages. When the film has aged for a long time and exposed to excessive UV rays the film begins to break down causing a shattered glass cracking effect. When this happens it is important to have it removed, as soon as possible. When the film begins to wear down like this, it may damage the paint beneath and become very difficult to remove.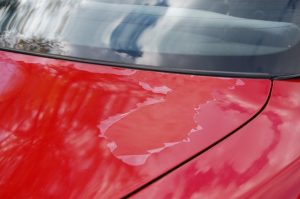 Road Damages
Over time and many miles on the road, your paint protection film may be more adept to receiving cosmetic damages. These damages can come over time from driving through gravely areas resulting in unaesthetic wear and tear in the film.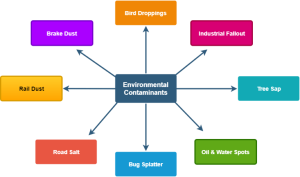 Why it is important to remove damaged PPF?
It is important to remove damaged Paint Protection Film, because over time it may seriously damage the original layer of paint on your vehicle. Paint Protection Film that has shown the signs of failure could possibly be damaging to your paint. If you see yellowing or cracking in the film, it is highly recommended that you have it removed sooner than later.
Why do you need to have the film removed?
If the film fails the removal may be hazardous for the original paint of your vehicle. This is especially true if you see signs of cracking in the film. The removal of cracking film will require a very difficult removal, and may require the use of strong chemicals that could damage your paint. If you are suspicious or seeing signs of failure on your Paint Protection Film, please bring it to Exotic Vehicle Wraps to check on the film. Keeping your vehicle protected is our top priority.