To Spray, or NOT to Spray?
We have all noticed whilst driving behind a 'blacked out' vehicle their 'tinted' taillights. This can be an elegant sporty look, or a hazardous mistake if not done correctly. Many consumers walk into their local automotive stores and find themselves looking at spray paint or the infamous VHT Nightshade and begin spraying their headlights or taillights. VHT Nightshade is a very misleading product as it shows on the can a beautifully darkened taillight fixture on the can. Upon reading closer into the details one will notice it strictly says for 'off road use only.' This is not false advertisement; it is not to be used for daily driving as it is a translucent spray and will render your lights useless.
There is a safe and better looking alternative to this method, and that is transparent vinyl. With the use of high quality transparent vinyls one will be able to acquire the sporty and SAFE look as desired. There are many shades of these vinyls and can be applied to taillights and even headlights. For taillights there are two shades of smoked film, a lighter and a darker. For headlights and fog lights there are many color options to suit your needs including yellow, green, blue, red, and many shades in between. Not only can you colorize your lights safely and efficiently, it also restores your lights removing that old 'hazy' look!
Pros of Transparent Vinyls
Safety– Does NOT dull your outgoing light, avoid getting pulled over for unsafe driving and avoid causing accidents
Durability– High quality vinyls will last over 5 years without fading and durable enough to endure every seasons inclement weather
Easy Removal– In the event of wanting to remove the tint, the vinyl is quite easy to remove with the use of a little heat
Options– Whether you're looking to smoke your taillights or colorize your fog or headlights there are many color options and styles to choose from
Even More Options– We're always thinking of new ways to use our vinyls and this transparent film is no different. It can be applied to chrome emblems and other surfaces to produce a 'colored chrome' look
Cons of VHT Nightshade and Spraying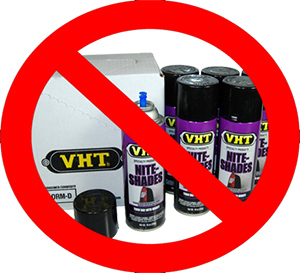 Hazardous Driving– Dulled output of taillights will put yourself and other around you at risk
Constant Re-spraying– VHT Nightshade even when clear coated after installation will begin to fade and look hazy over time
Damaging Removal– One can either use a cleaner base to remove the spray, which can begin to eat away at your light fixtures or wet sand the spray off. Both options will leave your lights in worse condition than they were before and after spraying
Unprofessional Look– More than often while spraying the lights after a few coats you may notice a 'runny' look where it was over sprayed. This look is not clean, sporty, elegant look we're trying to accomplish
Melting Light Fixtures– On a hot summer day your sprayed lights absorb all incoming light and can run the chance of melting your OEM light fixtures causing you to spend hundreds replacing them
Stand Out Responsibly
When it comes to customizing your vehicle to your needs, the cheaper DIY route is not always the best option. A professionally installed transparent vinyl to your headlights, taillights, or fog lights will give you the elegant custom look you are looking to accomplish. Don't put yourself and others at risk of these hazards that come along with spraying, get your lights tinted correctly today.